About Us

Founded in 1966, the East Providence Historical Society meetings were originally held at the Roger Williams Grange, Rumford Grange and the former Rumford Community Center.
In 1987 the Society was granted a lease from the City to occupy the historic John Hunt House in the picturesque Hunt's Mills section in Rumford. The house, built between 1750 – 1790, is a 5 bay, center chimney, Georgian style residence typical of a well-to-do family living in a country setting.
The John Hunt House functions as a headquarters for regular and special events and is located in the southernmost tip of the Blackstone Valley National Heritage Corridor. Society members and volunteers have repaired and restored the building appropriate to the original design of the house.
Our members are dedicated to preserving the heritage and enjoying the history of our city. If you are not a member, we invite you to join us now. Our annual dues are $25 for a family membership and $15 for an individual membership. To join the historical society, you can  download and complete our membership application, then mail it with a check to the address listed on the top of the application. Or, join through out PayPal link below.
"All Quiet on the Rappahannock Tonight: The Civil War Letters of Lt. Peter Hunt"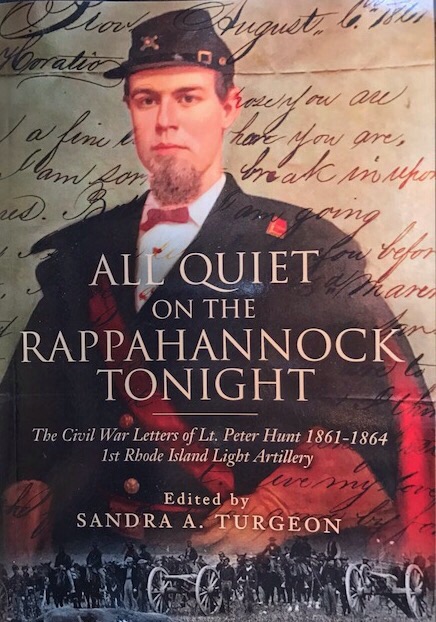 To commemorate our 50th anniversary, we have published a book of Civil War letters from Lt. Peter Hunt, great grandson of John Hunt Jr., to his family. With the blessing of Hunt family descendants, Fran and Peter Gross and Tim Philbrick, we bring you Peter's story of honor, bravery, and inspiration. The book is available at the Hunt House for $15.99 plus tax. If you would like to reserve a copy, please email us at ephsmarker@gmail.com. It is also available on Amazon: All Quiet on the Rappahannock Tonight.
Calendar
When
What
Where
Details
5/13

1-3:30

 Second Sunday Open House
John Hunt Museum

65 Hunts Mills Rd 02916

EXHIBIT: "The Return of the Rumford Early Tools/ Machinery to Rumford"

The Society is pleased to announce the opening of the Rumford Baking Powder Company early museum collection which was taken to Terre Haute, Indiana in the 1960s. From 1857 to 1900, the Rumford Chemical Company made everything it needed for production and shipping "in house." Also in the main exhibit room: a look at the Rumford through the daily life of its workers.

May 1, 2018

7:00

Library Event

Sowams: The Untold History

41 Grove Avenue, East Providence, RI 02914

Weaver Library presents Sowams: The Untold History on Tuesday, May 1, 2018 at 7pm in the Champlin Program Room of the library.  Helen Tjader, former Barrington Land Trust President, will speak on the history and preservation of the Sowams Heritage Area, the 17th century home of Massasoit.

According to Tjader, it can be argued that Sowams is the pivotal place of cultural exchange between indigenous people and colonizing settlers in North America. Her talk examines the incredible role of the local land and its people to our national history with a special focus on East Providence.

For the past 25 years, Helen Tjader has volunteered with towns and local land trusts to protect open space in Rhode Island leading to historic research, stewardship work and statewide, to Land Trust Days.  To Tjader, being out in the land is the only way to appreciate special places, including Sowams.

4/23

7pm

Refreshments

6:30 pm

 General Meeting
Weaver Library

41 Grove Avenue, East Providence, RI 02914

The Weaver Library and the East Providence Historical Society collaborate once again to bring a special program to the community. Based on the book Made It

 by East Providence native Bernie Mulligan, the program highlights an extraordinary, local story that also captures history and lives shaped by World War II, immigration to America, the Rhode Island polio outbreak of early 1955, and the political turmoil of the 60's and 70's.  On a lighter note, those who remember collecting Green Stamps won't want to miss how 6000 books of S & H Green Stamps figure into the tale.

The Mulligans lived on Ruth Avenue in the Phillipsdale section of the city. As Made It is also a story of the character and heart of a neighborhood, the Historical Society will set the scene with a brief slide show of the Phillipsdale area.

3/11

1-3 pm

Second Sunday Open House
John Hunt Museum

65 Hunts Mills Rd 02916

Exhibit 1: All Quiet. On the Rappahonnock Tonight (see above)
Exhibit 2: The Return of the Rumford Early Tools/Machinery to RumfordHikes at Hunts  1:30 at Gazebo
3/18

3pm

375 Anniversary Talk
Newman Church

100 Newman Ave

The Beginning Band 1643/King Philip's War 1675/Lt Peter Hunt
 3/26

7pm

Refreshments

6 pm

General Meeting 
Building #11 at  the Rumford Center  200 Newman Ave
Pieces of the Rumford tool collection are on permanent loan to The Rumford Center.View 2008 PBS Documentary "New England Portraits" Rumford Baking Company – footage of former local workers
4/8
1-3 pm
Second Sunday Open House
John Hunt Museum

65 Hunts Mills Rd 02916

Exhibit 1: All Quiet. On the Rappahonnock Tonight (see above)
Exhibit 2: The Return of the Rumford Early Tools/Machinery to RumfordHikes at Hunts  1:30 at Gazebo
5/13

1-3 pm

Second Sunday Open House
John Hunt Museum

65 Hunts Mills Rd 02916

Exhibit 1: All Quiet. On the Rappahonnock Tonight (see above)
Exhibit 2: The Return of the Rumford Early Tools/Machinery to RumfordHikes at Hunts  1:30 at Gazebo